yo!...
itz property wot done it
...innit!
PALOOKAVILLE
FINANCIAL
capitulation day
+

165

...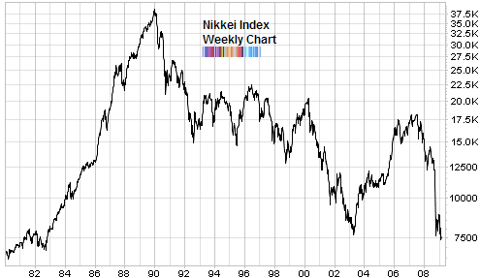 ...

There is a house in many a town
They call the Rising Debt
And it's been the ruin of many a poor boy
And God I know I'm it
My mother was a tailor
She sewed my new bluejeans
My father was a gamblin' man
Down in New Orleans
Now the only thing a gambler needs
Is a mortgage and trunk
And the only time he's satisfied
Is when he's on a drunk
------ organ solo ------
Oh mother tell your children
Not to do what I have done
Spend your lives in sin and misery
In the House of the Rising Debt
Well, I got one foot on the platform
The other foot on the train
I'm goin' back to Rentin a room
To wear that ball and chain
Well, there is a house in New Orleans
They call the Settin Sun
And it's been the ruin of many a poor boy
And God I know I'm one
EVERY PICTURE TELLS A STORY
NB chart is uk based and funds reflect the effect of currency movements
charts from
equitable life
are used as an illustration of sector performance comparisons only
and not as a commentary on their investment performance.
no opinion
is offered here either for or against equitable life as a pension company...
...they just happen to have these charts...
...
which i find very helpful
...
...when comparing sector fund performance...
...
THERE IS A DISCLAIMER AT THE TOP O THE PAGE
...
...
THIS AINT ADVICE AN WE AINT IN BUSINESS
...
...
WE JUS SUCKERS LAK YOU
...
...
PISSIN INNA WIND
...