yo!...
PALOOKAVILLE
FINANCIAL
stardate
:
capitulation day
+50
...the Emperor has been caught flashing he dick instead o wearin a latest fashions...
...some sucker took his finger
outa damn
an pointed at a Edude...an said...
... "is that a dick or wot"!
...almost immediately..they was a great intake o breath...an
alla bubbles burst
...
...dahn come baby..cradle an all...
...nah ya can git almost any thang yo wants...fo
half price
or less...
...
an they still aint no takers
...
...most o a financial bollox is sayin...itta buy signal...an before ya know it...
alla stocks be risin...anna sun shinin...anna
normal service be resumed
...
'cat
: yo boss...is we is or is we aint buyers o stox man?
beulah
: sucker aint gon bust ma pension on no shock an scares...
laverne
: shudda nevah married at painty b*astard an all...
spider
: seven f*ckin legs man...wot fo i got only seven...
opkin
: nex f*cker calls me a rat...gon get his ass kicked...
bearpetey
: ahm in cash mostly innit!...ahm lookin atta bollox an am...
...not convinced o a case fo investin any much cep onna nibbly type way...
zooneh
: this
chap
seems ta have a take onnit...
Paul J Lamont
: ..."As we stated
last October
(the month of the stock market's peak); "the stock market is a sideshow, it can adjust to the economic reality very quickly as it did in 1929 (especially with credit losses already in place)."
Only misconceptions about the Great Depression cause a dismissal of the similarities. Commodities are correcting sharply as forecast. The U.S. Dollar has gained double-digits against other currencies while the Yen is "soaring to 13 year highs."
The U.S. stock market (DJIA) has fallen below the 'line in the sand' described in March. And European countries are faring much worse as expected. Even our forecast for Mega Thrift is becoming more plausible.
How Low Can It Go?
As mentioned in April of 2007, "When the effects of inflation have been extracted, the DJIA is much more cyclical than Wall Street promoters would care to admit."
Steve Williams of Cycle Pro has updated his inflation-adjusted Dow Jones Industrial Average chart (below) which we previously cited. The recent sell off seems insignificant when viewed over the last 200 years. Our target is unchanged; we expect the market to swing to the lower end of the trend channel.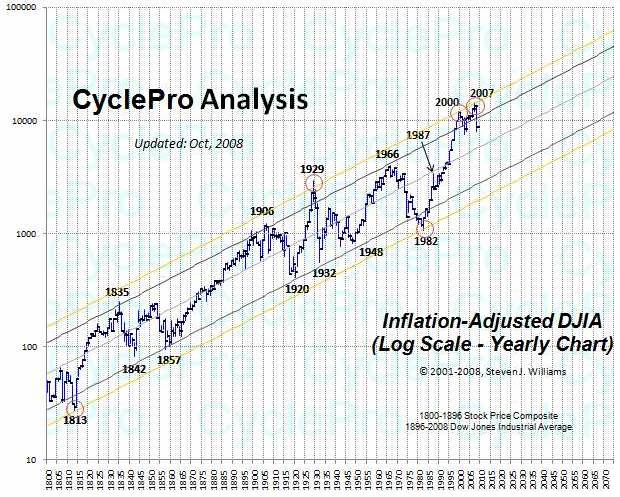 On the way to the bottom, the market must relieve bearish sentiment (make you forget your fear). It can only do this through sharp powerful rallies (where we all laugh for a day with CNBC on how close we came to the brink). We have described these as "rocket-launched (oh they've saved us) bear market rallies." Investors who cheer these sharp up moves as a sign of the bottom should take note of the chart provided by Tom Denham from Elliotwave.com below.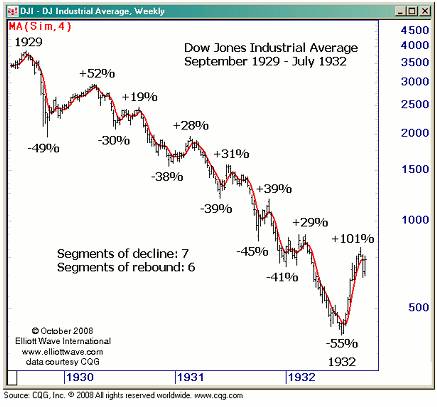 Inflation - Negative Over the Next 5 Years
Because of high debt levels, we have continually warned of a deflationary collapse. Now according to Nouriel Roubini,
Finally, and more important, yields on Treasury Inflation-Protected Securities (TIPS) due in five years or less have now become higher than yields on conventional Treasuries of similar maturity. The difference between yields on five-year Treasuries and five-year TIPS, known as the break-even rate, fell to minus 0.43 percentage points. This is a record. Since the difference between the conventional Treasuries and TIPS is a proxy for expected inflation, the TIPS market is now signaling that investors expect inflation to be negative over the next five years, as a severe recession is ahead of us.
TIPS are signaling negative inflation for the next 5 years and inflation below 1% for the next 10 years! Therefore we would like to reiterate our call to investors to preserve their portfolios with U.S. Treasury Bills (interest bearing cash). Higher returns require more risk, which in our view will not be rewarded in this type of environment...." seeking alpha

bearpetey
: thanx ta alla bloggers(specially em atta side bar) fo bein there in this sh*tty time an tellin alla suckers a troof an savin us all fromma msn bollox an...poverty...